Cost Effective Custom Trade Show Exhibit Displays That Are Simple And Quick To Set Up + Reusable
Stand Out And Attract New Customers Using The Alusett Trade Show Exhibit Display
From a simple back-wall custom trade show exhibit to a two level exhibit with the Alusett parts you can easily mix and match.
That way you can create your unique custom trade show displays exhibit design for a cost effective solution that automatically attracts new customers (and reuse the same parts over and over again saving you 1,000's of dollars)
Now, here's a few others benefits that people really love in the Alusett system for their custom trade show exhibits:
Frames are extremely strong and durable.
Frames are highly resistant to chemicals and atmospheric conditions
Aluminium construction is recyclable
Availability of original parts is guaranteed for 10 years
Matte finish resists dirt and scratches
Easy maintenance and repair
Lightweight aluminium for all our trade show booths
No single part is heavier than 110 pounds (50 kg) for two story exhibits
No need for forklifts, scaffolding or heavy equipment during assembly
Reduced costs for packaging, shipping, drayage, installation/dismantling and storage
Extremely easy to set up
Only tools needed: socket wrenches, allen wrenches and ladders
And much, much more.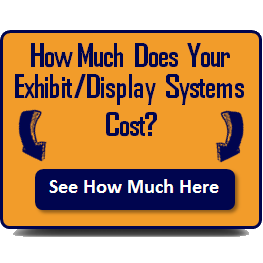 Give us a call at 800-434-0444 or fill out your info right below, and we'll give you a free quote on your custom trade show exhibit displays, 1 on 1 personal service, and answer nay question you may have.
Any questions you have about our trade show exhibits and display systems, please let us know here to help.